Welcome to Paintball Matrix Durham
Book Now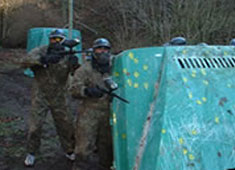 Our Newcastle site is set in a large wooded valley, with a fast flowing stream running through the middle. Based just south of Newcastle, it is excellently situated for work party's from Durham or Newcastle, a day out for local students, or even an activity for your stag or hen weekend!
Average Paintballs Used
Pricing
Game Fee
£9.99 per player
1st 100 Paintballs
£10. Free when booked online!
Paintball Price
(100 balls)
£8.00 on the day

Session Times
Limits
Optional Extras
Why not save yourself up to 25% by booking your paintballs in advance!!
400 PaintballsThese will be given in addition to your free 100 paintballs
600 Paintballs
These will be given in addition to your free 100 paintballs
Save 16%
1000 Paintballs
These will be given in addition to your free 100 and includes one smoke grenade
Save 25%